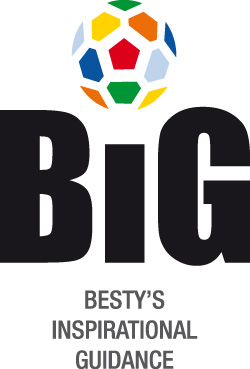 Besty's Inspirational Guidance
Latest news…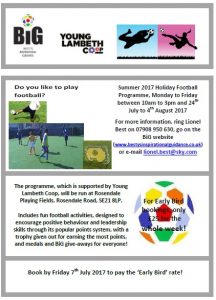 The BiG Summer 2017 Holiday Football Programme, supported by Young Lambeth Coop!
BiG will be delivering theSummer 2017 Holiday Football Programme between Monday the 24th July and Friday the 4th August 2017
For only £30 per week with an "Early Bird" discounted fee of £25 if you register by Friday 7th July 2017 so contact BiG ASAP to secure your booking and take advantage of this deal!
See what others have said about the Summer 2016 Holiday Football Programme!

The BiG Elite Football Development Programme, now delivered in partnership with AFC Wimbledon Academy!!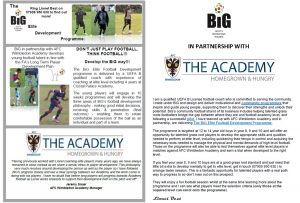 As the Talent ID manager for AFC Wimbledon Academy, it is a pleasure to work with Lionel and BiG in this partnership arrangement as we know that the BiG Elite Programme will help those talented grass roots players bridge the gap between where they are and academy level.
Ben Fosuhene, Talent ID Manager, AFC Wimbledon

Academy
Read more about the BiG Elite Development Programme
We plan to visit AFC Wimbledon Academy this coming Easter so if you feel you meet the criteria required to enrol on this unique programme, please contact BiG!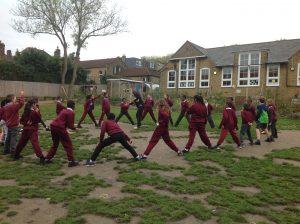 BiG Hitherfield Leaders!
Visit the Leadership Programme page to read more!

The programme helped to develop the children's personal and social skills such as leadership, interpersonal and organisational skills whilst raising their self-esteem, confidence and resilience.
Lisa Finn, P.E. & Clubs School Improvement Leader, Hitherfield Primar

y School
BiG needs your help!

BiG is looking for partners to help empower young people. If you're interested please contact BiG!
Welcome to BiG
BiG (Besty's Inspirational Guidance) business is to mentor and guide young people using educational and sporting activities. BiG has developed a number of motivational programmes to achieve its business aim including it's mentoring and development programme SHOCK.
The SHOCK programme uses Appreciative Inquiries disciplines, part of the Growth Mind set Strategy techniques and incorporates PHSCE (personal, health, social, citizens and education), an element of the national school curriculum, combining classroom with PE related activities, increasing academic and social confidence.
BiG also delivers Sports Leaders UK courses including Level 1 Award in Sports Leadership qualifications, which are nationally recognised and part of the Qualifications and Credits Framework (QCF), centred around developing leadership skills and key life skills. BiG is very community conscious and focussed and delivers a number of programmes to engage young people, in particular, it's Holiday Football Programmes.
Please explore and visit all the pages on this website to find out more about BiG and see what BiG has been up to!