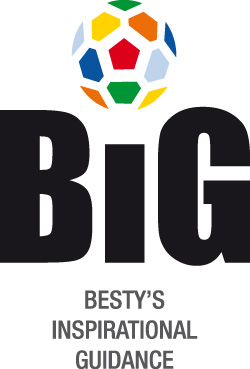 Besty's Inspirational Guidance
Latest news…
An opportunity for young people to help shape their futures!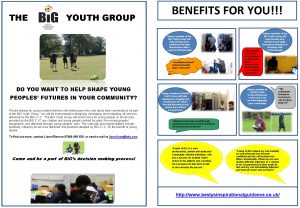 BiG is looking for creative thinkers with enthusiasm who care about their community to be part of the The BiG Youth Group. Is that you!





Another successful holiday football programme!
Here is BiG's Privacy Policy Notice, in view of the new General Data Protection Regulation (GDPR)!
If you wish to continue receiving updates about all BiG's services, the new regulations insists that you have to clearly opt in so please update your preferences
Come and join The BiG Elite Football Development Programme, which is delivered in partnership with AFC Wimbledon Academy!!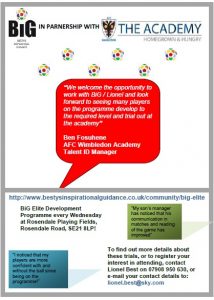 Do you (or your son) have the desire, commitment and mental discipline to want to develop to the next stage and bridge the gap between where you are and academy football? Do you think you / your son meets the criteria required to enrol onto this unique programme?
If so, call Lionel Best now on 07908 950 630!

As the Talent ID manager for AFC Wimbledon Academy, it is a pleasure to work with Lionel and BiG in this partnership arrangement as we know that the BiG Elite Programme will help those talented grass roots players bridge the gap between where they are and academy level.
Ben Fosuhene, Talent ID Manager, AFC Wimbledon

Academy
Showcase games against 2 academies scheduled for December 2017 so don't miss out!
Read more about the BiG Elite Development Programme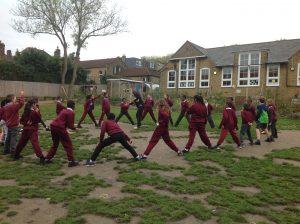 BiG Hitherfield Leaders!
Visit the Leadership Programme page to read more!

The programme helped to develop the children's personal and social skills such as leadership, interpersonal and organisational skills whilst raising their self-esteem, confidence and resilience.
Lisa Finn, P.E. & Clubs School Improvement Leader, Hitherfield Primar

y School
BiG needs your help!

BiG is looking for partners to help empower young people. If you're interested please contact BiG!
Welcome to BiG
BiG (Besty's Inspirational Guidance) business is to mentor and guide young people using educational and sporting activities. BiG has developed a number of motivational programmes to achieve its business aim including it's mentoring and development programme SHOCK.
The SHOCK programme uses Appreciative Inquiries disciplines, part of the Growth Mind set Strategy techniques and incorporates PHSCE (personal, health, social, citizens and education), an element of the national school curriculum, combining classroom with PE related activities, increasing academic and social confidence.
BiG also delivers Sports Leaders UK courses including Level 1 Award in Sports Leadership qualifications, which are nationally recognised and part of the Qualifications and Credits Framework (QCF), centred around developing leadership skills and key life skills. BiG is very community conscious and focussed and delivers a number of programmes to engage young people, in particular, it's Holiday Football Programmes.
Please explore and visit all the pages on this website to find out more about BiG and see what BiG has been up to!