Holiday football programmes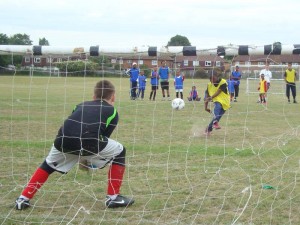 BiG runs football holiday programmes that keeps many young people occupied and off the streets during the school holidays. These programmes also give me the opportunity to reach out and mentor these kids.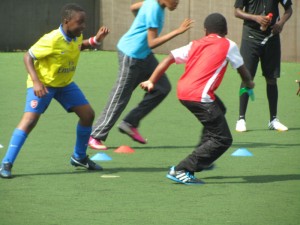 My football holiday programmes are designed to be exciting, educational and fun. They are delivered in a structured way that improves young people's football skills, technical abilities, tactical awareness and general understanding of football, while at the same time developing key life skills such as leadership and team working.
The programmes are also designed and delivered in line with the BiG Football Development Philosophy, helping young people to develop mental concentration and good awareness to be able to make good initial decisions, to be able to perform good receiving skills and penetrate effectively so they can comfortably retain possession of the ball individually and for good team play.
To incentivise the kids to conduct themselves in the right way and to aid their football, social and personal developments, BiG awards points on a daily basis to all participants based on their sportsmanship, listening skills, general conduct, how helpful they are and off course the progress of their football attributes. The person with the most points at the end of each programme is then awarded a trophy.
Summer 2014 Holiday Programme

Thank you for the opportunity to support your Summer Soccer programme: BiG Summer football. I was more than delighted to contribute as a sponsor. Extra curriculum activities like yours are so important to the development of raised self-esteem and confidence in our young people. It also promotes a sense of purpose and lays a strong foundation to team building, interpersonal and communication skills – essential life skills. Well done Lionel and may your programme continue to grow from strength to strength." Karen Bryson, Bright Futur

es 4 All
Here are the 2 winners of the Summer 2014 holiday football programmes.
Well done Rashaan and Victor! Check out the pictures from both programmes

I support BiG because it offers young people an opportunity to participate in activities through football development. My son Kieran was one of the first participants of BiG, the skills and discipline learnt has influenced and contributed to his development with AFC Wimbledon the club he currently plays for. Well done Lionel thank you for BiG." Ro

se Rhule