SHOCK Programme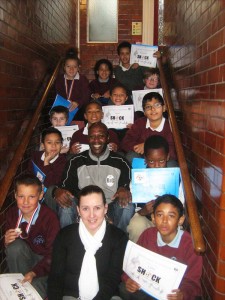 SHOCK aims to encourage positive attitudes to learning by providing an alternative to developing key basic skills whilst raising self-esteem and confidence, widening and sharing knowledge, providing new opportunities and contributing to good health.
Objectives
To empower today's young people to take responsibility and ownership and deal with conflict effectively while managing their own anger
To widen today's young people's general knowledge so they can make informed choices and thrive in education and in life
To raise the motivation levels of vulnerable young people so they value and respect themselves, others and the authorities
To assist today's young people to have healthier lifestyles
The benefits of SHOCK could be huge to society! With effective mentoring, young people will develop their self-esteem and self belief, feel more confident and positive therefore more likely to thrive and respect authority.

From participating in SHOCK I noticed that 52% of my class's attitude to learning had improved, 60% of their behaviour had improved, 96% of them seemed more confident with higher self esteem, 68% of them seemed more engaged in the classroom, 76% of the class appeared more respectful, 80% of the children's reading had improved, 84% of their mental maths ability had improved and 100% of their writing had improved.
Taiwo Labinjo Year 4 Teacher, Immanuel & St Andrews Primar

y School
BiG has just started delivering SHOCK in Dunraven School, Streatham London, it's first secondary school and is looking forward to supporting teenage boys and girls increase their academic and social confidence. SHOCK has been delivered 6 times in primary schools and the campaign started with a six weeks pilot programme at Hitherfield Primary School for children in year 5 and 6 (aged 9 to 11) as an after school activity. The programme commenced on 2nd November and finished on 14th December 2011.
Here is a summary evaluation report of my findings.
More details on the pilot can be found in the full report.
You can also find some pictures and a video production on the pilot in the Gallery page
Here is the first Shock Brochure published at the beginning of 2013 which details strong testimonials supported by statistical outcomes from some of the SHOCK programmes delivered.
I delivered my second SHOCK Programme in St John Baptist (Southend) Primary School between April and July 2012 and
here are two video productions from the programme.
During the 2012 and 2013 academic year, I delivered four more SHOCK programmes. At the beginning of the year I ran SHOCK in Torridon Junior School as part of a mentoring programme for boys over 10 weeks, whilst at the same time, delivering SHOCK in Immanuel & St Andrews Primary School. This was initially agreed as a 12 weeks programme. However, due to the impact on the year 4 class, I was asked to deliver an Extended programme to the class for a further 10 weeks and then another fresh programme to the year 5 class.
I ended up delivering SHOCK in Immanuel & St Andrews Primary School all through the year. I also ran an Exit programme in St John Baptist (Southend) Primary School.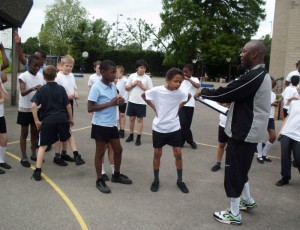 See what others have said about SHOCK