YSA Volunteering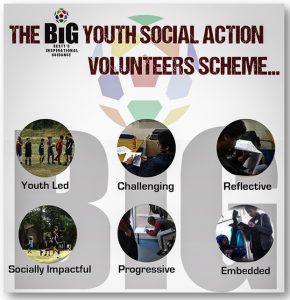 We are looking forward to rolling out the BiG Youth Social Action (YSA) volunteers Scheme with young people at the core of the programme's development. The programme will provide opportunities for many of today's young people to develop key employability skills, raise self-worth and gain a sense of belonging by having a voice and making valuable contributions to their community, something that is needed with our young people who many believe are part of a 'no hope' generation.

Voluntary Youth Social Action is very important for young people where they will develop skills needed to enter the labour market contributing to making their CVs / portfolios attractable for future employers. The BiG YSA Volunteers scheme will provide opportunities for young people to engage in a variety of stretching but developmental tasks including, but not limited to website design, Digital marketing, PR and general marketing, Telemarketing, stakeholder engagement, filming and editing and graphic design.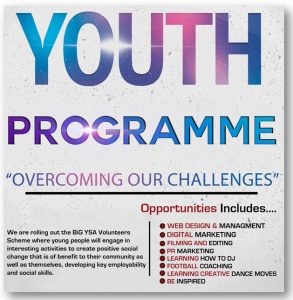 We will be developing partnerships so we can offer young people other benefits such as placements in some businesses and organise in-house development workshops run by professionals, where volunteers can gain more expert development from professionals in their areas of interest.
The scheme will include the delivery of important and topical joint in-house development workshops such as Safeguarding, basic employment rights, employability necessities, knife crime prevention awareness just to name a few. We will also organise fun interactive peer-to-peer activities where young volunteers can hear and learn from each other's experiences, and receive and provide feedback, learning to become effective reflective learners. And off-course, we will organise regular celebratory events and / or opportunities to celebrate success!


We are looking forward to working with young people to develop this exciting programme which will no doubt include a number of other creative components that our talented young people will come up with!